June is National Great Outdoors Month, and what better way to create great summer memories with your family than by experiencing the beauty of nature together? But how can you, with little ones in tow, take advantage of all that June has to offer? Here are five fun suggestions to engage even the smallest of outdoor adventurers.
Take Advantage of Your State Park's Programming!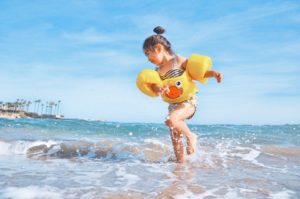 Your local state park is a treasure trove of fun, family-friendly activities. Consider going to a Firefly Walk! June is a particularly active season for fireflies, known for dancing through the night air with their magical twinkling. If your family plans to go firefly-spotting, plan ahead! Some parks, such as the Smokey Mountain National Park, are in such high demand that you must enter a lottery for admission to the perfect viewing ground. If parks strike your fancy, be sure to pick up a "Park Passport" from the park gift shop. Your child will not only be able to keep memories from your trip, but will delight in collecting unique stamps in their passport from all the parks you visit.
Find Treasure….Go Geocaching!
Any child can tell you that there is a thrill in searching for buried treasure, but who would have thought that it could be educational experience? Geocaching is the perfect fusion of technology and nature. Using a downloadable phone app or GPS-supported device, your task is to navigate your way to a hidden box containing a "treasure" left by the last Geocacher. If you decide to take the treasure you find home, you must leave something of equal value for the next group to discover. And who knows where your hunt may lead you? Cache boxes may be hidden anywhere from a friendly suburb to a mountain summit! When home, you and your little adventurer can log your finds on geocaching.com together.
Unplug with a Creative Camping Experience Your Kids Will Love.
Throwing the good 'ole tent and cooler into the back of the car can be the start to the perfect family weekend. There is a reason that traditions like eating s'mores with sticky fingers are passed on through generations — they're too good to let go of! There's plenty of variety in the camping scene that can add color to this classic summer staple. For starters, think about trading out the tent! If your family become guests at Cloudland Canyon State Park in Georgia, for example, you have the option to stay in a cozy furnished yurt. Yurts typically accommodate up to six guests and include access to your own personal fire ring and a shared bath house. Or if riverside is more your fancy, stay in a family-sized "treehouse" over the Edisto river in South Carolina.
Teach Your Child Your Favorite Outdoor Pastime.
Nothing beats seeing your child enjoy something that, as a child yourself, used to create dirt under your nails and laughter for days. Were you an avid kayaker in your youth? Rent a two-person kayak and teach your novice paddler under the safety of your gaze. Are you keen to hit a forested trail? Have fun building your own personalized trail mix with your little ones, then strap on your hiking boots together. What could be better way to foster a love of nature in your kids than by introducing them to your favorite way to get out there and play?
Start in Your Own Backyard.
Though this commemorated time comes but once a year, you can feed your child's love of outside play all year long. Even if you don't have much space to create a garden, buy a few washtubs or large planters. Tomatoes, cucumber, and squash are great starter plants you and your child can grow, even in confined space. And as a bonus, you can break out the paint and decorate the planter pots together for a sweet memory that will last well after summertime.
There you have it, five ways that you and your children can soak up the sun and build appreciation of Mother Nature this June. May this fuel your inspiration to get out and go! Whether you enjoy PB&J sandwiches on the front lawn or drive hours to explore a new-to-you state park, you won't regret embracing National Great Outdoors Month with your great kids.