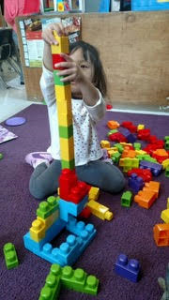 This large space encourages children to interact with one another and with their teachers on a regular basis in a safe environment.  
Our program expands on the learning experiences from the one year old room by incorporating many of the discovery, sensory, dramatic and self-help skills learned earlier. 
Toddler Program And Toddler Care
Our dedicated team at The Learning Center at Calvary encourages interaction at this level of education. We supervise and coordinate activities to help your child grow into their skin.
They will learn to better communicate with others while finding a variety of activities they find stimulating. This structured play, combined with an educational curriculum will have your child excited to attend each day.
Art and music activities are a regular part of the day in the Two Year Old room. Breakfast, lunch and afternoon snack are provided as well.
Assistance with potty training is provided in this classroom.  The classroom has both changing tables for those in diapers plus bathroom facilities for those comfortable with using the bathroom. 
Two Year Old Education
Our two year old program helps accelerate your child's thirst for knowledge while keeping them in a comfortable and safe environment. They will make new friends, have all new experiences and begin asking more questions to their teachers.
This inquisitive learning will continue to develop as they head toward Kindergarten, and our teaching staff is dedicated to bringing in prepared students to that level.
Help your child thrive while creating momentum that will carry them into Kindergarten in the future. Start today by talking to one of our administrators!